Cain's Corner - Recipes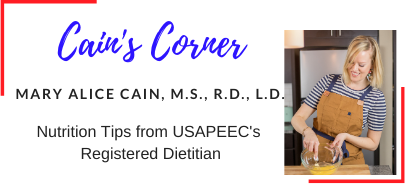 Registered Dietitian Mary Alice Cain focuses on promoting well-balanced, wholesome meals. Mary Alice teaches home chefs of all levels how to make cooking healthful, simple, approachable – and DELICIOUS! Here at Cain's Corner you can enjoy recipes featuring USAPEEC's four central commodities: chicken, turkey, duck, and eggs.
Learn how each recipe can be adapted to incorporate more nutrients or to reduce sodium, added sugar, and/or saturated fat. Mary Alice teaches simple hacks, such as replacing brown rice for white rice to add fiber to your dish, or substituting no-salt-added canned beans to minimize sodium. And, each recipe features lean protein from poultry and eggs!
Have a nutrition question for Mary Alice? Reach her at MCain@usapeec.org.
*Source credit is listed for each featured recipe and noted if the recipe has been modified. Otherwise all recipes are authored by Mary Alice Cain.