Become a Member
USAPEEC is the only organization that serves the U.S. poultry and egg industry's export interests and whose mission is to open new markets and maintain access to current ones.
Who is eligible for membership? Exporters of U.S. poultry and egg products, including processors, trading companies, cold storage warehouses, freight forwarders, or another provider of products or services that benefit from increased exports.
Membership Classes:
Poultry and Egg Processors
Trading Companies
Associate (Cold Storage, Freight Forwarder, Service Providers)
State and National Commodity Groups
Elite Trading Partner (Importers Only)** - Non-U.S.-based
**Benefits are limited. Click on the link for Elite Trading Partner for more information and to apply.
As a USAPEEC member, you will have immediate access to a global information network that provides market intelligence and advocates to tear down artificial trade barriers.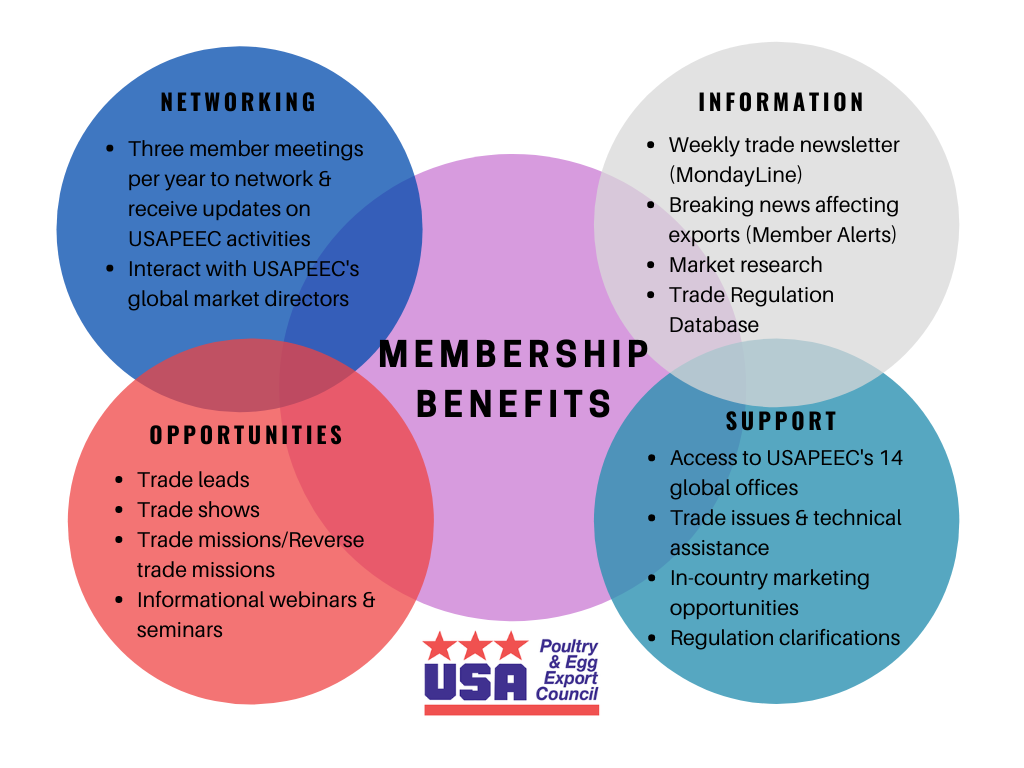 BONUS BENEFITS
USAPEEC also:
optional benefit
For an additional fee, members may participate in the Trade Policy Task Force (TPTF). TPTF participants receive more in-depth market and policy information throughout the year and have two sessions per year in conjunction with USAPEEC meetings.
MEMBERSHIP APPLICATION
For more information about how to become a member of USAPEEC, contact us at 770-413-0006 or by emailing us at members@usapeec.org.