News
USAPEEC Teleworking during COVID-19 Pandemic
March 23, 2020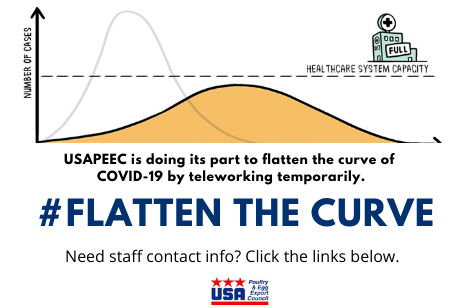 USAPEEC will be doing its part to help flatten the curve of the COVID-19 pandemic.
Effective March 24 and for an indefinite period of time, most of our staff will be working remotely, and only a limited number of people will be in the office.
Fortunately, this should cause no disruption in the services that USAPEEC provides you. To that end, USAPEEC staff email addresses and phone numbers are listed below so that you may contact them as necessary. In the meantime, we will otherwise continue business as usual. We have, for example, been conducting teleconference meetings with our international staff in the wake of the cancellation of our staff marketing and planning conference to make sure that these activities can be held when we are able.
Members may reach staff via email or mobile phone by downloading this document. International Offices are also available to be reached.
Thank you for your patience and understanding as we make this transition, and we wish you and your family all the best. We anxiously await the "all clear" so that we can return to the office and resume operations as normal.